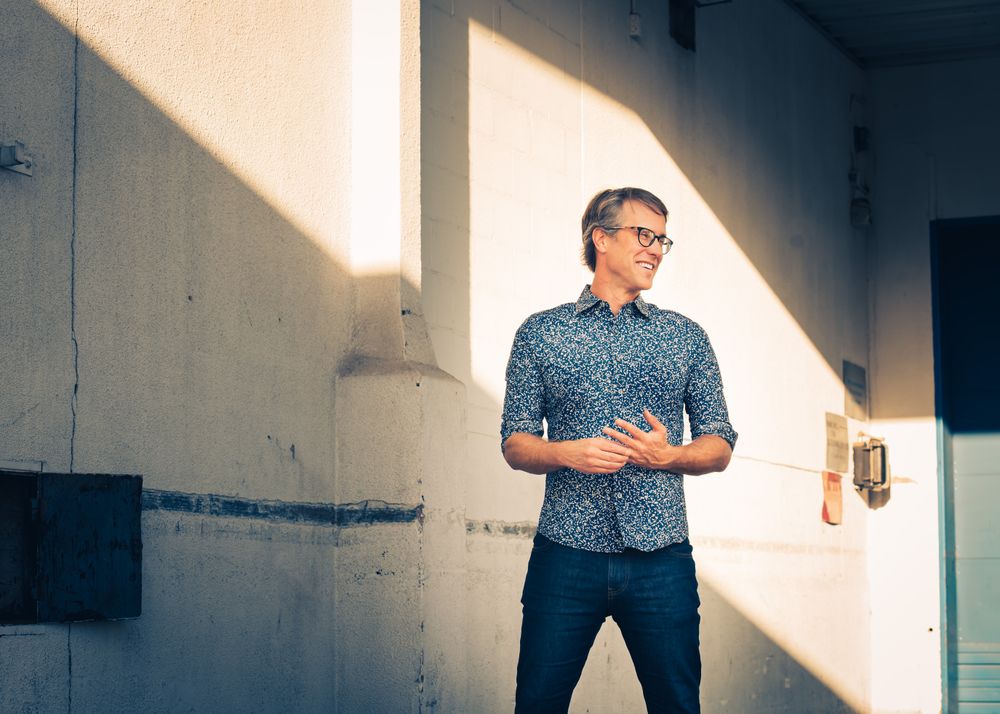 "Facknitz' songwriting style epitomizes the strength of such confessional greats as Jim Croce and Gordon Lightfoot, with an obvious wink to Michael Penn in the chord changes and an appreciation for melody and structure that might make Elvis Costello feel as though the torch had been passed."  - Alfred Watson, Green Room Diaries
Jeremy Facknitz has been entertaining audiences with his lovingly crafted music and high-energy performances for over a quarter century. Since the 2002 break-up of his Detroit-based band "The Ottomans" (they earned a 2001 Detroit Music Award for Best New Alternative Band, beating out "The White Stripes"), Jeremy has performed primarily as a solo act, marrying folk-rock and jazz stylings to showcase his intimate stories of life, love, and self-discovery.  
But from 2003 to 2017, those stories seemed to fall on deaf ears. Facknitz carved out a living performing at bars, coffeeshops, and corporate events while teaching lessons on the side. "I was happy to be making a living performing music, but my original music wasn't being heard - and as the years passed I found myself more and more frustrated playing to little more than the din of drunken conversation." Things came to a head on July 17th, 2017 when Jeremy was diagnosed with viral meningitis. "I came face to face with my mortality, and I realized it was time for a change. I quit performing at bars and spent the next year making the leap to house concerts, touring, and performing solely for listening audiences."  
The leap has paid off. Jeremy was named a top 24 finalist from over 700 entries in the 2020 and 2022 Grassy Hill Kerrville New Folk Songwriting Competitions at Kerrville Folk Festival. His song "Ballet of an Unhatched Chick" was awarded semi-finalist distinction at songoftheyear.com for 2020.  
While occasionally performing with his 6 piece band in Colorado, Jeremy continues to tour solo - performing at house concerts and listening rooms in the United States, Canada and Europe. He's currently promoting his 5th album of original material "From Those Sweet Ashes" and has begun recording a follow-up album set for release in 2023. 
His past albums "Gimmick", "What a Day", "Music From The Original Motion Picture Soundtrack", and "All's Well" can be found here. 
TIDBITS AND ACCOMPLISHMENTS: Finalist for the 2020 and 2022 Grassy Hill Kerrville New Folk Songwriting Competitions at the Kerrville Folk Festival... Awarded semi-finalist distinction at SongOfTheYear.com, 2020 A.C. category ("Ballet of an Unhatched Chick")...  Runner-up in the Renaissance Artists and Writers Association "Songs For Social Change Competition", 2020 ("Land Fills")... Member of "The Ottomans" from 1997 through 2002 (2001 Detroit Music Award Winner, "Best New Alternative Group")... Member of "Standing Room Only" with brother Jarod Facknitz from 2001 through 2003... 2009 Pikes Peak Arts Council nominee for "Best Solo Performer of the Pikes Peak Region"... has opened as solo act for/performed with Tim Reynolds (Dave Matthews Band), Pat Donahue, Edie Carey, Charlie Milo, Lindsay Weidmann... graduated from the Specs Howard School of Broadcast Arts in 1997 and was a radio DJ for 4 years (gospel and adult contemporary)... passed the series 7 test for license to sell securities in 2013 and one year later quit working in finance... loves baseball and is an avid fan of the Detroit Tigers baseball club... is married to singer-songwriter Lindsay Weidmann and together they have two children... lives in Colorado.
READ ALL ABOUT IT...
JEREMY FACKNITZ IS A FINALIST IN THE 2022 KERRVILLE FOLK FESTIVAL GRASSY HILL NEW FOLK SONGWRITING COMPETITION, 4/19/2022.
 COLORADO SPRINGS MUSICIANS DREAM BIG BY ENTERING NPR'S TINY DESK CONTEST, COLORADO SPRINGS GAZETTE, 4/7/2022.
VOYAGEDENVER.COM, DAILY INSPIRATION: MEET JEREMY FACKNITZ, 12/14/21.
"LAND FILLS" RUNNER-UP IN THE RENAISSANCE ARTISTS AND WRITERS 2020 "SONGS FOR SOCIAL CHANGE" SONGWRITING COMPETITION, 2/18/21.
JEREMY FACKNITZ LIVES IN THE MUSICAL MOMENT, COLORADO SPRINGS INDEPENDENT, 10/21/20.
MASTERING ENGINEER CLINT WAGONER HAS HIGH PRAISE FOR "FROM THOSE SWEET ASHES", 10/20/20.
"BALLET OF AN UNHATCHED CHICK" AWARDED SEMI-FINALIST DISTINCTION ON SONGOFTHEYEAR.COM, A.C. CATAGORY, 7/31/2020.
HOW JEREMY FACKNITZ'S VIRAL MENINGITIS INFORMED HIS NEW ALBUM, WESTWORD, 6/11/2020.
JEREMY FACKNITZ IS A FINALIST IN THE 2020 KERRVILLE FOLK FESTIVAL GRASSY HILL NEW FOLK SONGWRITING COMPETITION, 5/15/2020.
JEREMY FACKNITZ AND CARLA OLSON WITH THE NEW AND NOTEWORTHY, COLORADO SPRINGS INDEPENDENT, 4/29/2020.
COLORADO SPRINGS CREATORS CONTEND WITH CHANGING ART LANDSCAPE DUE TO CORONAVIRUS, KRCC RADIO, 4/23/2020.
JEREMY FACKNITZ PERFORMS HIS SONG "LIFE AVENUE" ON FOX 21 IN COLORADO SPRINGS, COLORADO, 3/9/2020. 
SEE JEREMY PERFORM LIVE ON THE COLORADO SPRINGS GAZETTE "TAKE 10" PROGRAM, 1/5/2018. 
HEAR AN INTERVIEW AND LIVE PERFORMANCE FROM JUNE 2016 ON KCMJ 93.9FM IN COLORADO SPRINGS, COLORADO.
THE MAN WHO BEAT THE WHITE STRIPES (KRCC, 2009).
PEOPLE HAVE SAID... 
"... a native of Detroit, Facknitz enjoys the claim to fame of having beaten out the White Stripes for "Best Alternative Band" at the Detroit music awards in 2001. It's no surprise either—his music has loads of catchy melodies and rhythmic drive... But what really sets Facknitz apart is his incredibly original lyricism and sense of humor, blended with his own folky, feel-good style."  - Ron Logan, 40 oz robot 
"Jeremy Facknitz is a one-man acoustic act with the panache needed to become a star, armed with a melodic voice and a truckload of charisma..."  - Sydney Hamilton, Colorado Springs Independent 
"Jeremy Facknitz is like a singer/songwriter who has been bitten by a radioactive rock star."  - Charlie Milo, The Charlie Milo Trio